Seamless Laboratory Services for your SunRADON Monitors
No device rental or lease required

Comply with state radon testing, reporting, and QC requirements

Expert assistance with your radon testing service and QC plan

Seamless integration with OneRADON mobile app and cloud

Ability to stop & restart tests, and prepare lab submissions without going on site

1-Hour typical turn-around time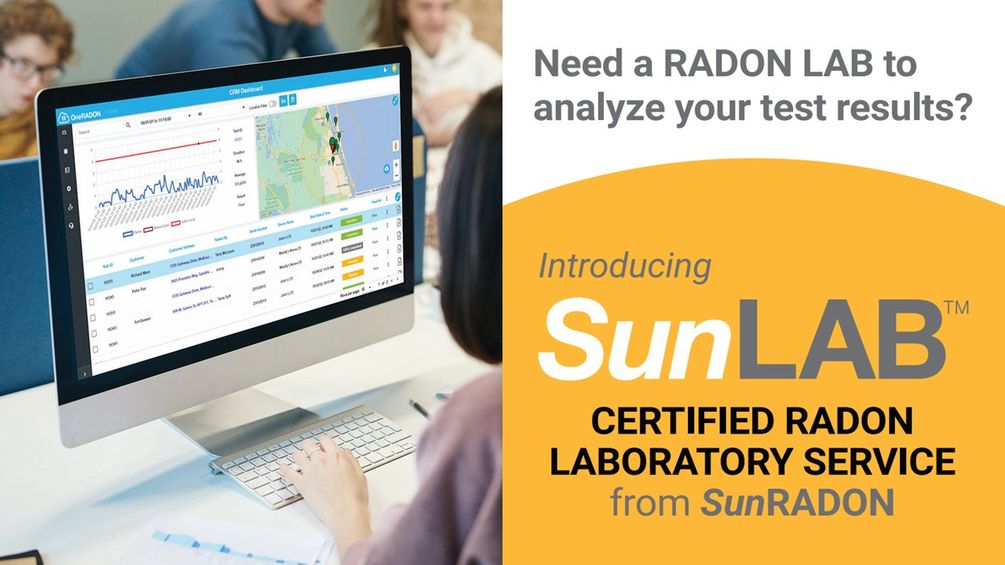 Latest News!! SunLAB Services now available in 47 States including latest additions of Ohio, Indiana, Kansas, Pennsylvania, and Minnesota!
SunLAB Introduction
SunLAB is for home inspectors and radon testing professionals who want or require certified laboratory analysis of radon test results. SunLAB works seamlessly with your SunRADON radon monitor and software. Following a test, test results and report details are automatically uploaded to SunLAB, where a Radon Measurement Professional performs an analysis and returns a certified report.



Use your SunRADON* radon monitor to conduct a standard professional measurement.

Use the OneRADON mobile app to automatically upload test data to your cloud account.
Here you can add further information such as monitor placement, checklists, test conditions, etc.

Click "Submit for Review" to send your test to SunLAB.

SunLAB analyzes the test results and provides you with a signed report, typically within 1 hour.
The approved report is sent to your e-mail and is simultaneously available in your OneRADON cloud account with a "Completed" status.

Send the report to your client, along with any comments, directly from your OneRADON cloud account or your mobile device.
More Questions about SunLAB Services?
Contact our specialists now!
Learn more about OneRADON for SunLAB Users
Seamless Integration of Mobile, Desktop, and Cloud
Supports Sun

RADON Models 1027, 1028, 1028 XP, and 1030
Single-click report submission from Mobile, Desktop, or Cloud
Combined upload of test and meta data including pictures, checklists, and test details
Smart data synchronization between mobile, desktop, LTE and cloud
Fully automated, web-based workflow management
OneRADON Cloud - Your One-Stop, Web-Based Business Hub
Manage all your reporting and QC needs from one place
Submit reports for approval or review, edit, or download previous reports
Send approved, branded reports and invoices to your clients from within the app
Use 1028 XP with LTE and have reports ready even before returning to the test site
Merge tests to add secondary foundation test or create QC duplicates
Export summary test data and QC device reports for state reporting
Data backup, data security, and data retention guaranteed
Unmatched Flexibility and Versatility
Choose mobile, desktop or cloud to generate and submit reports
Submit reports while still on-site or upload and have your office review and submit them
Edit, correct, and resubmit reports if necessary via cloud dashboard
Access and regenerate past inspection reports for auditing or customer inquiries
All-In-One Device and License Management
Fully integrated with your OneRADON Cloud portal
Manage your SunLAB and LTE licenses with built-in, secure e-commerce portal
Automated device surveillance including last location & time used, and battery status
Integrated calibration and service RMA portal with optional shipping label generation

CSV export of license and RMA payment transaction log for your accounting

Automated, Compliant CRM Quality Control
All-in-one dashboard that meets all you your CRM QC needs
Automated, dynamic set of control limits
Single view of control charts, QC history table, and QC summary
Tracks calibration and side-by-side (duplicate) status with Pass/Fail
Receive notifications when QC actions are required
Print QC summary report for state reporting
To install this Web App in your iPhone/iPad press
and then Add to Home Screen.