Web-based Business Suite for Professionals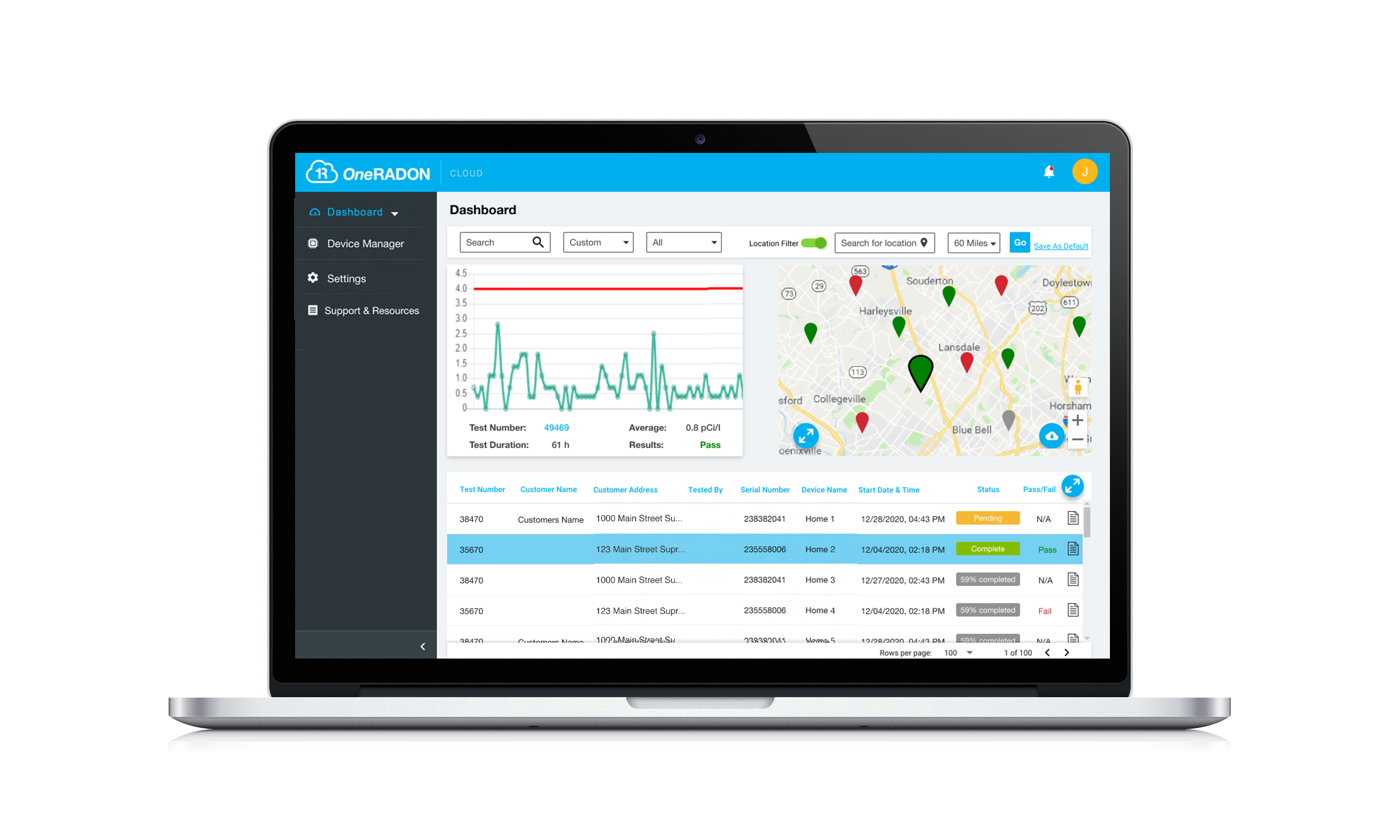 Test. Report. Prevent.
INCREASE THE EFFICIENCY AND PROFITABILITY OF YOUR BUSINESS
NEW: Now with ANSI/AARST compliant reporting and Quality Control Module!
Smart cloud synchronization with OneRADON for Mobile or Desktop

Track and locate your SunRADON Monitors, device status, and test in progress

Generate and manage inspection reports and invoices for clients

Access and download complete Radon data files for State Reporting

Manage devices including Calibration and Service RMA's

1028 XP with LTE – live data synchronization and remote test stop or restart

Expand your business with the integrated lüft Monitor Service Dashboard


Subscription: starting from $149.00/year (per CRM) including free annual calibration!
To get started with your OneRADON Cloud account

One

RADON® Cloud License Plans

OneRADON Cloud offers 2 License Levels + 1 add-on License for LTE device users
Base
Device Management
Free Annual Calibration
Test Summary Reports

lüft™

Active Mitigation Monitor Dashboard
Data Backup, Data Security, Data Retention

Advanced Level 1
Device Management
Free Annual Calibration
ANSI/AARST Compliant Reports
CRM Quality Control
Test Summary Reports

lüft™

Active Mitigation Monitor Dashboard

Data Backup, Data Security, Data Retention
LTE support
LTE Add-On
1028-XP LTE Test Management
Unlimited LTE Data Upload in Real Time
Data Backup, Data Security, Data Retention

Unlimited LTE Data Plan
Seamless Integration with Mobile and Desktop
Sun

RADON Models 1028 XP, 1030, 1028, 1027 supported
Secure auto-data upload upon device connection including GPS location
One-Click upload of inspection meta data including pictures, checklists, and test details
Smart data synchronization between mobile, desktop, LTE and Cloud
Data Backup, Data Security, and Data Retention guaranteed
User-Friendly Dashboard
Quickly View: Chart, Location, Customer Info, Test Status
Default Search Filters
Single Click Inspection Report Access
Merge tests to add Secondary Foundation Test or create QC Duplicates
Export Summary CSV data for State Reporting
Smart Data Synchronization from Mobile and LTE
Customized Inspection Reports
ANSI/AARST compliant reporting options
Edit start and stop time
Add pictures, checklists, risk information, and property details as needed
One-Click data download of test CSV data for further processing
Generate PDF reports, invoices, and send directly to clients from within app
1028-XP with LTE – live data synchronization and remote stop/restart command options
Complete Device Management
All-in-one view of device status, device location, and RMA history
Fully automated device surveillance

Last device location & time used, battery, firmware, and calibration status
Add or renew CRM and LTE license subscription with secure e-commerce portal

Integrated Calibration and Service RMA Portal


Create new RMA including RMA report
Choice of integrated FedEx shipping terminal or return shipment pre-payment

CSV export of license and RMA payment transaction log

ANSI/AARST compliant CRM Quality Control Module
All-in-One Dashboard to manage CRM QC
Automated, Dynamic Set of Control Limits
Single View of Control Charts, QC History Table, and QC Summary
Tracks Calibration and Side-by-Side (Duplicate) Status with Pass/Fail
Receive Notifications when QC Actions are required
Print QC Summary Report
One-time, easy Setup and Configuration
Set default action levels and Radon units
Configure Report Options including ANSI/AARST compliance, Charts, and Tables
Customize reports with company logo, address, signature, and default comments
Manage separate shipping (return) address for RMA
To install this Web App in your iPhone/iPad press
and then Add to Home Screen.