Cloud Business Suite for Professionals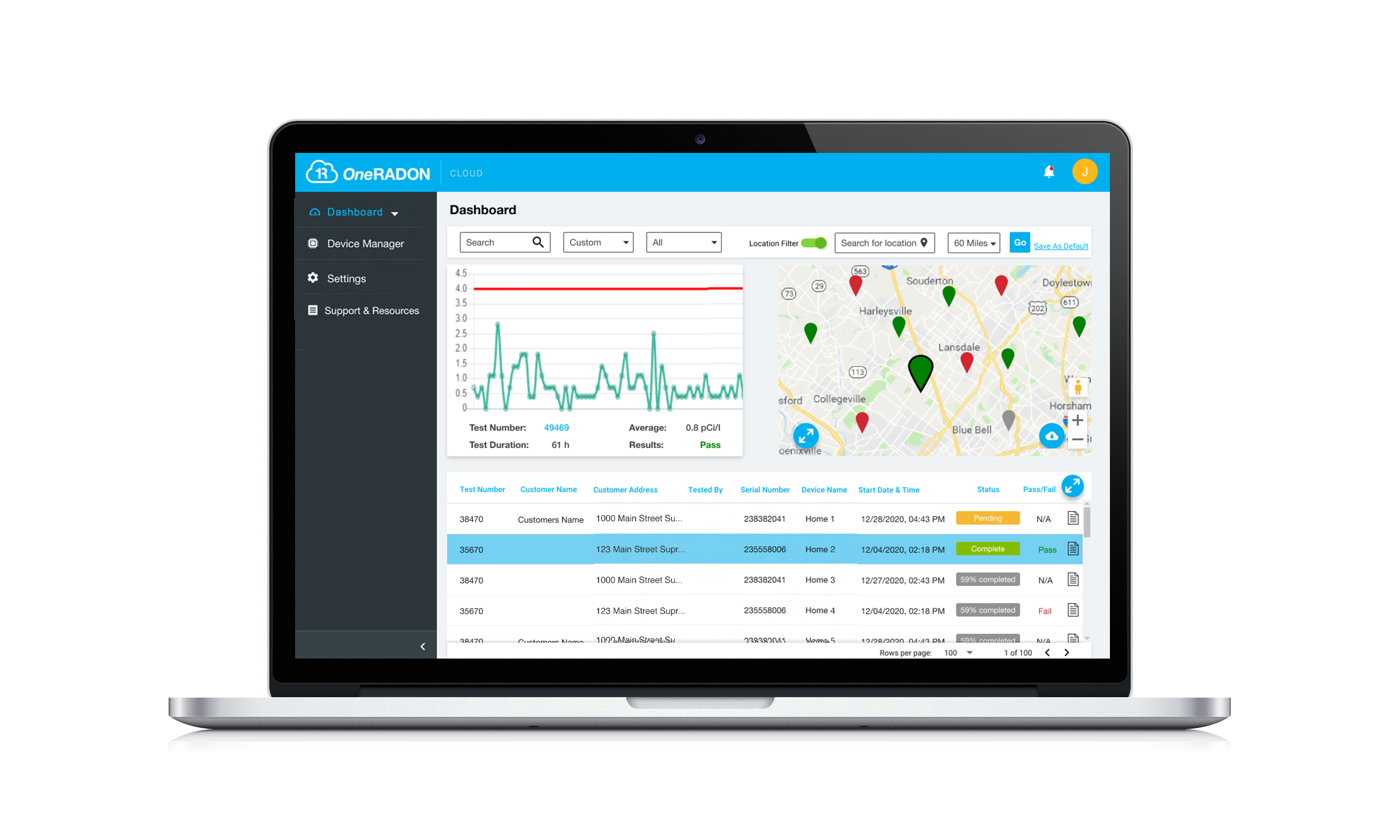 Test. Report. Prevent.
INCREASE THE EFFICIENCY AND PROFITABILITY OF YOUR BUSINESS
Smart cloud synchronization with OneRADON for Mobile or Desktop

Track and locate your SunRADON Monitors, device status, and test in progress

Generate and manage inspection reports and invoices for clients

Access and download complete Radon data files for State Reporting

Manage devices including Calibration and Service RMA's

1028 XP with LTE – live data synchronization and remote test stop or restart

Expand your business with the integrated lüft Monitor Service Dashboard

Subscription: starting from $129.00/year (per CRM) including free annual calibration!
To get started with your OneRADON Cloud account

One

RADON® Cloud License Plans

OneRADON Cloud offers 2 License Levels + 1 add-on License for LTE device users
Base
Device Management
Free Annual Calibration
Test Summary Reports

lüft™

Management Dashboard
Advanced Level 1
Device Management
Free Annual Calibration

Test Summary Reports

lüft™

Management Dashboard

Inspection Management
Unlimited Report Generation
LTE support
LTE Add-On
1028-XP LTE Test Management
Unlimited LTE Data Upload in Real Time
Seamless Integration with Mobile and Desktop
Sun

RADON Models 1028 XP, 1030, 1028, 1027 supported
Secure auto-data upload upon device connection
GPS location tracking where and when connected
One-Click upload of inspection meta data including pictures, checklists, and report details
Edit, add, and update inspection data and sync with cloud without worry about duplication or loss of data
User-Friendly Map Dashboard
Quick, filtered view by test location, time range, and test status
Search by customer, serial number, address, or tester
Quick view of test chart results with direct link to detailed report
Export test summary data and test info to CSV file for state reporting
Choose Map or Inspection Dashboard as home page
Interactive Inspection Dashboard
Organize work in progress by advanced search and filter options to reduce clutter
Sort and filter by test progress and inspection report status
Quick view of test progress and results by address, customer, device serial number, and tester
One-Click action to open individual inspection
Fully automated data synchronization from mobile including location mapping
Find inspection address with embedded google map
Inspection Reports
Quick completion of inspection report by starting what was uploaded from mobile or desktop
Add, edit, and update inspection details including but not limited to pictures, checklists, risk information, and property details
One-Click data download of test data in CSV format
Generate PDF reports, invoices, and e-mail directly to clients from within app
1028-XP with LTE – live data synchronization and remote stop/restart command options
Device Management Dashboard
Fully automated device surveillance without any user entry
Search for device by serial number, location, or last time used
Monitor device location, last time used, battery and firmware
Get automatic remainders prior to expiration of calibration
Add or renew Cloud license subscription with secure e-commerce portal
CSV Export of payment transaction log
Visually locate device with embedded google map
One-Click access to RMA Portal
RMA Portal
Integrated Calibration and Service RMA Portal
Automated RMA Report generation with serial numbers, shipping addresses, and tracking
Choice of integrated FedEx shipping terminal or return shipment pre-payment with secure e-commerce portal
View and print FedEx shipping labels and RMA reports
CSV Export of RMA transaction log
Integrated lüft Monitor Service Dashboard
Monitor your customers' lüft long-term Radon Monitors as a service
Enables post-inspection and post-mitigation surveillance
Customize each sensor's alert thresholds
View short- and long-term trend charts
CSV Export of hourly data logs for analysis
To install this Web App in your iPhone/iPad press
and then Add to Home Screen.